Blog
New Album and Merch Released!!!

Hey bloomers, well, it's FINALLY out – I Know What's Next But You Won't Believe Me, the full-length album. Yes, it took FOREVER, but now you can actually listen to it. I can't tell you all how much we wished it could have been released sooner, but with great anticipation, it's actually finished and can be enjoyed by all of you!
After what we've been through over the past few years, we can't believe it's done. You all can listen to it on iTunes here, Google play here, Amazon here, or Spotify here. And if you're a little old school (or just enjoy high quality audio like us) you can order the physical album on our web store at http://www.manicbloom.com/store.
We also have some sweet t-shirts there as well shown here by my wife and puppy, Leon (a handful but totally fun! Leon, not my wife; although she can be a handful sometimes but would say the same about me ;) )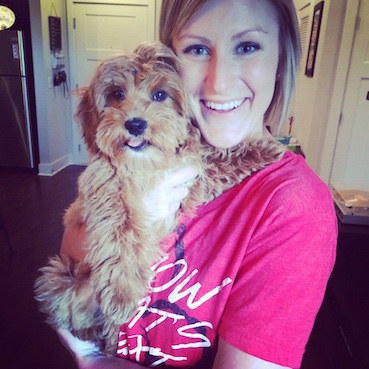 So feel free to order yourself one and one for your mom too since Mother's Day is fast approaching. Because you can never thank your mom too much and you know she loves some Manic Bloom!
As always, we can't thank you all enough for your gracious and incredible support. We couldn't have recorded and released this album without you all. Right now, we're working on scheduling a Nashville album release show at the end of May and hope to see you all there rocking out with us soon!
- Brink